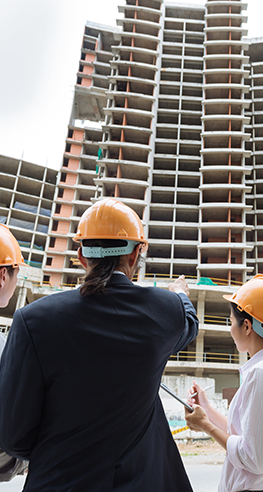 PROMOTING COLLABORATION
M.D. Hastings Risk Consulting was formed to provide an independent source of advice that is not tied to the sale of insurance products or ancillary services.
Backed by its founder's 30 years in the insurance industry, including 20 years as an insurance broker and consultant serving the construction industry, our goal is to promote collaborative teams, informed decisions, and effective risk management strategies. Dedicated to two industries marked by relentless change and innovation, we help sophisticated construction teams ensure that all the pieces of their risk management program fit together.
While no stranger to innovation, we're not intent on reinventing the wheel; in some cases, all that's needed is assistance to ensure that all the spokes are aligned to keep the wheel true and rolling in the right direction.
Whether we're making history or just "making sure," M.D. Hastings Risk Consulting will work in concert with your insurers, brokers, counsel, and internal and external team members to ensure that critical decisions are made with the benefit of all available knowledge and experience.
Let us help you transform your risk management strategy
MICHAEL D. HASTINGS, PRESIDENT

Mike has designed, negotiated, marketed, and managed insurance placements on construction projects comprising over $75 billion in construction cost. Working with owners, contractors, engineering firms and lenders, he has played a key role on a wide variety of projects including hospitals, rail, stadiums and arenas, industrial, power generation, and residential/mixed use. He has led risk and insurance consulting teams on seven major US public-private partnership (P3) infrastructure transactions achieving financial close since 2009, comprising over $13 billion in construction cost.
Mike is a frequent speaker on construction risk management and insurance issues, sought out by groups such as the Associated General Contractors of America, the American Bar Association, the Canadian College of Construction Lawyers, and the BIM Forum. He is a contributing author for the ABA publication Construction Insurance: A Guide for Attorneys and Other Professionals.
Expertise
• Project-specific insurances including Professional Liability/Indemnity, Pollution Liability, Builders Risk, and Owner and Contractor Controlled Insurance Programs
• Public Private Partnerships (P3)
• Building Information Modeling (BIM)
• Integrated Project Delivery (IPD)
AFFILIATIONS
• American Bar Association – Forum on Construction Law
• American Institute of Architects – Liaison to the Documents Committee
• Associated General Contractors of America
• BIM Forum